Tuesday, February 20
Jr. High Boys Basketball Practice After School.
School Council Meeting @ 7:00 p.m.
Wednesday, February 21
Mini-Olympics postponed to Thursday.
Thursday, February 22
Jr. High Boys and Girls Basketball teams play for Bronze! Go Nighthawks!
Our Mini-Olympics was originally set for Wednesday of this week. However, in anticipation of cold wind chills Wednesday morning, we are postponing this event to Thursday morning.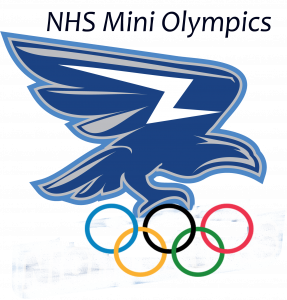 On the morning of Thursday, February 22, NHS will be holding its own mini-Olympics!
Students from grades 1-5 will participate in a series of events such as "slooshing" and "snowshoeing." With the anticipated temperatures being on the rather "wintry"  side in the morning, we are having both indoor and outdoor events. Groups will be led by grade 6 students, and the events run by junior high students. Staff will be assigned stations to supervise events.
The games will begin at around 8:45 a.m. and end at lunch time.
Please make sure your child has appropriate outer wear. Our lost and found has many coats, gloves, and hats that may include your child's items. Please take a moment to come in and see if any item belongs to your child.
Friday, February 22
Grade 5 Independent Studies Fair at 2:00 p.m.

Students in Grade 5W and 5J will be sharing their passion and topics of interest in the gym.
COMING UP NEXT WEEK
Junior High Information Night: Monday, February 26 at 6:30 p.m.
Meeting of the Board of Directors: Wednesday, February 28 at 7:00 p.m.
FANHS SGM: Wednesday, February 28 at 6:30 p.m.
Pink Shirt Day: Thursday, March 1
Intake Day for New Student Applicants: Friday, March 2