Music Success at the Sherwood Park Music Festival 2019
For the first time in New Horizons School's 24-year history, we entered the Sherwood Park Music Festival at the end of April and experienced a successful event. Below are the results.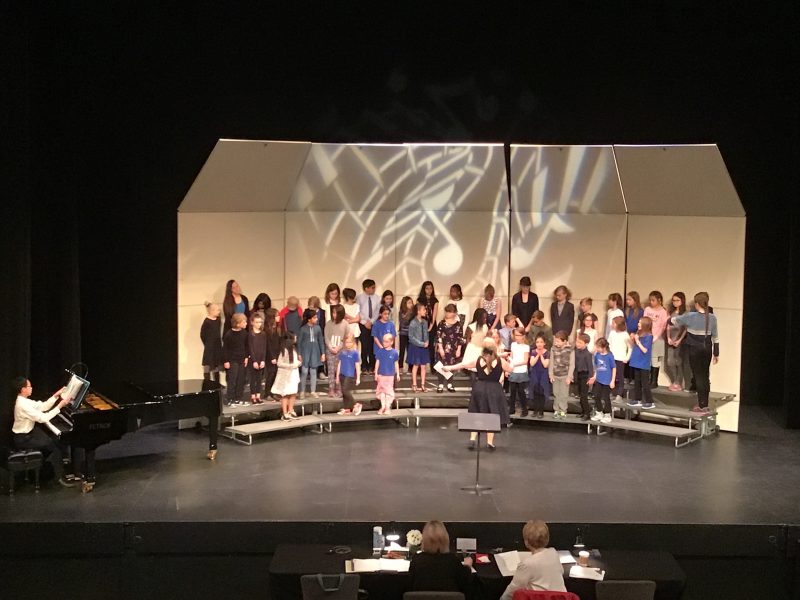 The Treblemakers won Gold for their performance of 'Peaceful River' and Silver for their performance of 'Trolls'!
The Trebadours won Silver for both 'Obwisana' and 'Spirits'.
The NHS Chamber Choir took home Silver for their performance of 'Thousand Years'.
As well, the choirs were invited to perform at the Gala and Awards Ceremony at Festival Place on April 29.
Additionally, the NHS Strummerz (ukuleles) took home Gold for 'Heart and Soul' and Platinum for 'Thousand Years,' and the Drama team also took home Gold and Platinum for their performances!!
Congratulations to Ms. Graham and all the performers!
Building the Music Program
By successfully accessing grants, Ms. Graham has been able to increase our music equipment inventory which has helped to expand our Orf Instrument set, and to bring in new types of instruments into our program. 
MusicCounts
The largest grant we received was from MusicCounts.
This school year, MusiCounts donated $1,000,000.00 worth of musical instruments and equipment to 96 schools across Canada via the MusiCountsBand Aid Program, and New Horizons School was one of those schools. We received $14,000 worth of musical equipment with this grant. A full list of all the recipient schools are listed here.

The MusicCount Grant allowed Ms. Graham to purchase a variety of instruments. These are some of the instruments:
upgrade our current inventory of Orff instruments to include variety and have enough for an entire class set
boomwhackers
bongo drums
granite blocks
steel drum
bar and wind chimes
conga drum set
metallophone
Thank you to the parents and staff who supported Ms. Graham's grant application.
A special thanks goes to Music Canada and sponsors for their generosity and support for music across Canada and in our school.