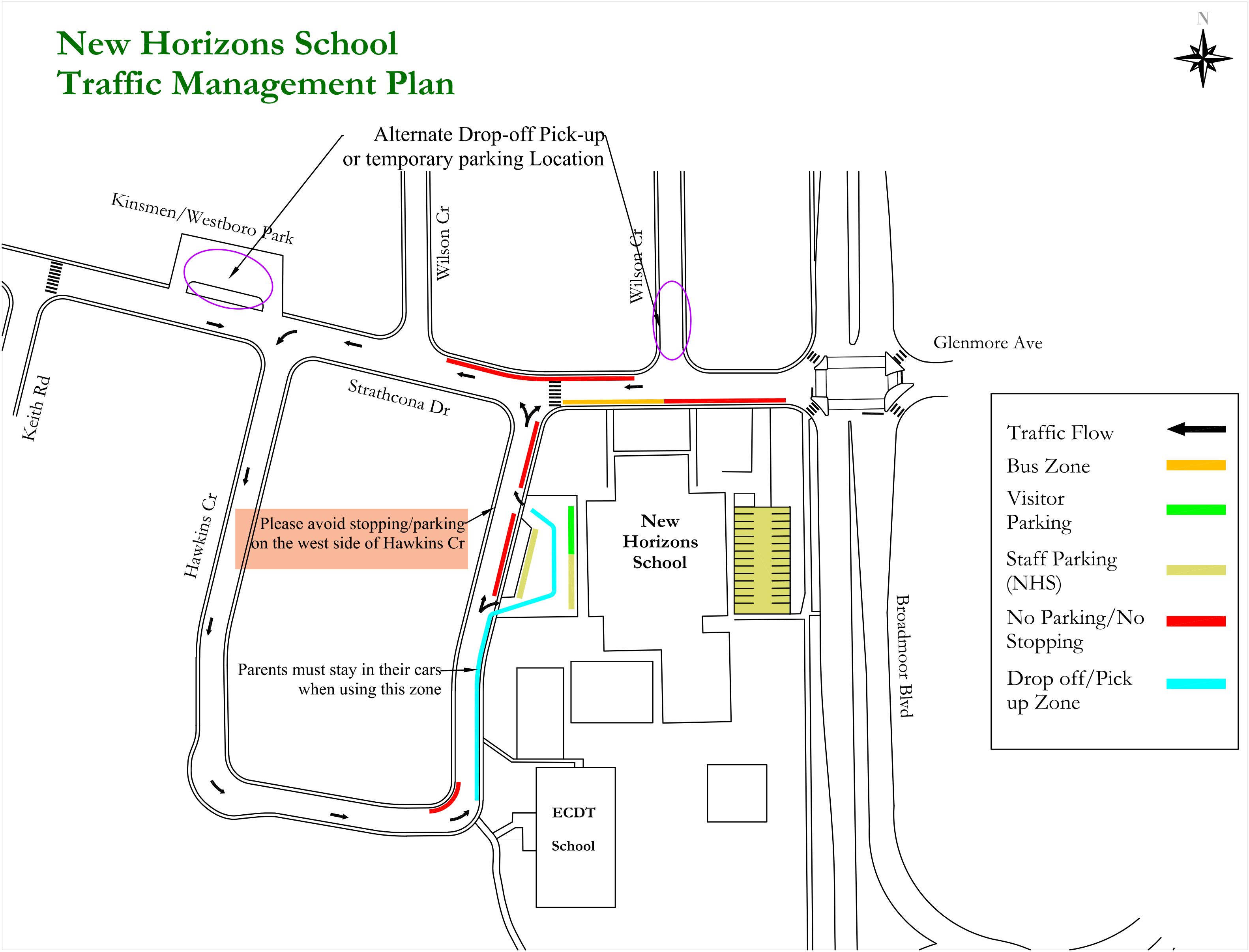 Can I pass the line after my child has been picked up?
You may pass the line when it is safe to do so if you picked up your child on Hawkin's Crescent.
If you picked up your child in the school parking lot, please do not pass unless a traffic monitor has indicated that you may do so.
Vehicle Identification Number
If your child is picked up regularly, you may wish to request a vehicle identification number.
The vehicle identification number should be hung on your rear-view mirror for after school pick-up.
Having the number allows monitors to call out the number to the students and direct them to your vehicle sooner. Therefore, please make sure your child knows your vehicle number.
If you do not have a vehicle identification number and wish to get one, please complete this form.
Pick-Up Procedures
At pick-up time, NHS is a busy and congested place.
In order to maintain safety and reduce the congestion, please read the following closely.
Pick-up time can take up to 10-15 minutes after the 3:14 p.m. dismissal time.
Pick-Up Zone (light blue on the map)
Please continue to enter Hawkins Crescent at its west access (ie – not at the pedestrian crossing).
Form a single line curbside.
Keep your four way flashers on to indicate to the vehicle behind you that you are in the pick-up line.
As students are picked up, the line will move forward. Please move with the line.
Please do not park or wait for you child in the blue zone. Remain in your vehicle and move forward with the line.
Do not double-park to gain entry to the parking lot.
How will I know where my child is? 
Unless you've made alternate arrangements with your child, all students who are being picked up will remain at the main entrance of the school.
As students are picked up, the pick-up vehicle line will move forward.
A monitor is also located on Hawkins Crescent calling out vehicle numbers to the monitors at the school entrance.
If that monitor finds your child, he or she will be directed to walk along the sidewalk to the Hawkins Crescent monitor.
How will my child get to my car?
After school monitors will assist students to their vehicle.
Monitors are located in front of the school and along Hawkins Crescent.