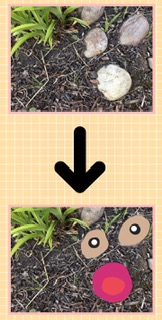 If you look carefully around you in your home, back yard, or when you are walking around your neighborhood, you will find "faces" of animals, people, or creatures.
Students at NHS have been given the challenge (see the video link on our Facebook Page) to find faces in their environment, take pictures of them, and send them to his or her teacher or to Mr. Zarowny.
We will post what has been sent our way, and if we get enough photos, we'll make a poster.
The photos in this post are our very first submissions!
There is no need to identify the face in your image as was done with these photos. Feel free to send in just the photo and let us look for the face!
Happy Face Hunting!