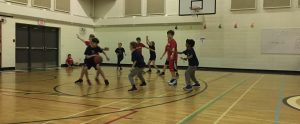 Last week on Friday, three groups of boys and girls in grades 5 and 6 participated in an evening of basketball at Holy Spirit School.
The event, organized by the Elk Island Catholic Schools Sports Council, gives students in grades 5 and 6 to play basketball in an fun way.
No score was kept and substitutions on a regular basis to allow for as much participation as possible.
Thank you, Mrs. Groten, for coaching the players, and for giving up a Friday evening for this valuable event.