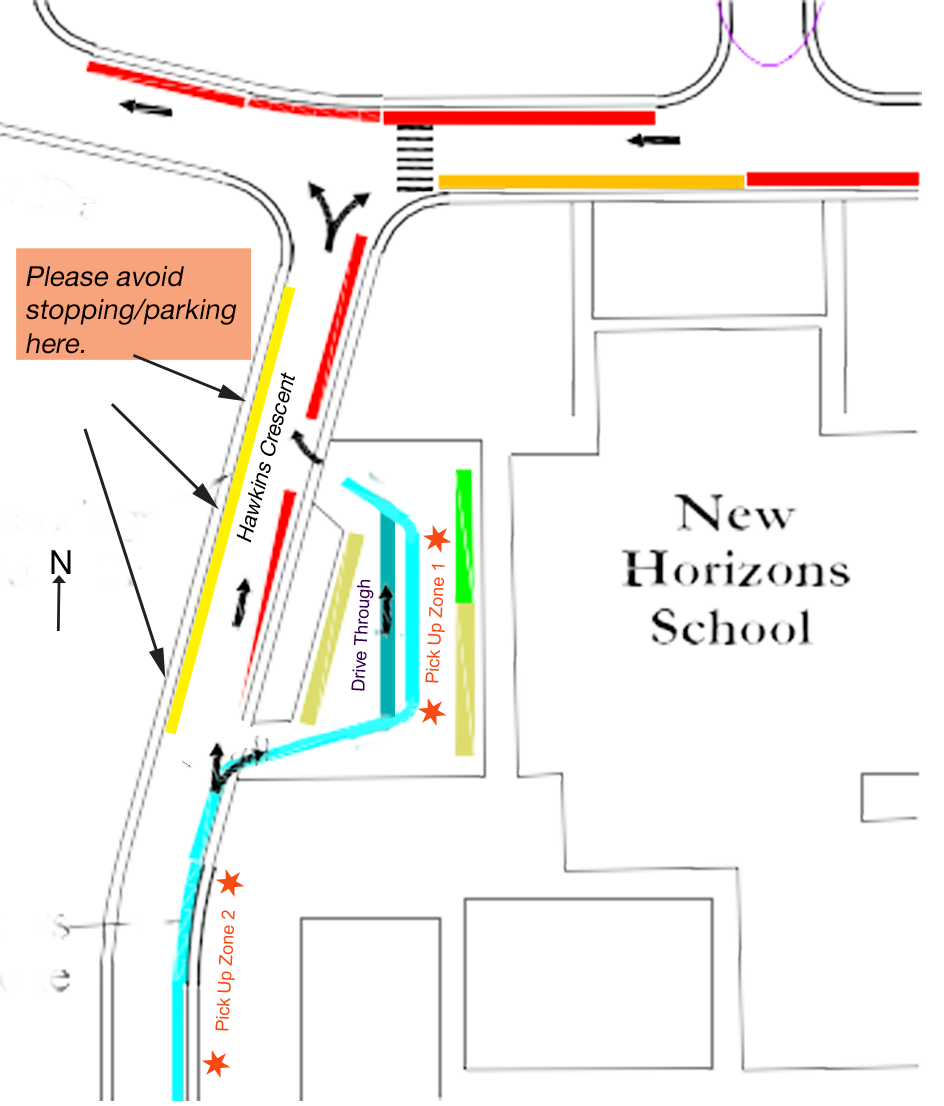 After School Pick-Up Zone #1
Important
This is our first year using with after-school pick up in the parking lot. While we have taken care to make the process as smooth as possible, delays are likely to occur. Our School Traffic Safety Committee will monitor the process and make necessary changes. We ask for your care patience over the next few days.

In order to streamline after school pick-up, please note the following:

Pick-up for Grades K-4 –

Pick-Up Zone 1 (parking lot) 

Pick-Up for Grades 5-9 –

Pick-Up Zone 2 (curbside) 
Pick-Up Zone 1
Please line up single file in the lane indicated by light blue on the above map.
Please do not begin lining up in this zone until 3:10 p.m.
Remain in your vehicle at all times.
Remain in a single file.

Use the driving lane only to exit the lot when you have picked up your child.
Should the line extend beyond the parking lot, please maintain a single file along the curb on Hawkins Crescent.
When the vehicle in front of you advances, move forward.
If you are on Hawkins Crescent and you notice that vehicles in front of you are not moving into the parking lot, pull out of the line and advance to the parking lot. They will be waiting to load in Pick-Up Zone 2

The pick-up zone will be marked off by pylons.

A supervisor will be present.
Loading will occur only in the Pick-Up Zone between the pylons.

Please do not persuade you child to walk to your vehicle if you are not in the pick-up zone.

If you are parked in the visitor parking stall, do not back out until the "clear" signal has been given by the supervisor after the rush is over.
KEEP THE TRAFFIC FLOWING:  Our buses will be loading on Strathcona Drive. In Strathcona County, urban buses do not use their flashers when loading and unloading. Therefore, it is legal to pass the buses while they are in the zone. Please do not wait for the buses to leave to enter Strathcona Drive.