This week at New Horizons, the following events are scheduled:
Tuesday After School: Elementary Choir Practice
Tuesday After School: Boys Nighthawk Basketball Semifinals (St. Luke vs NHS)
If the boys win this game, they will be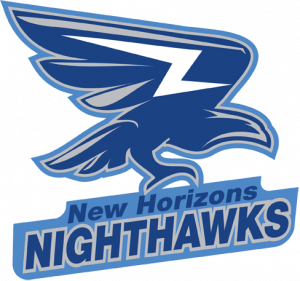 playing in the gold medal game Thursday after school.
Go Nighthawks!
Wednesday: Pink Shirt Day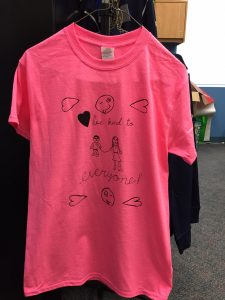 Students are invited to wear a pink shirt tomorrow for Pink Shirt Day. Students who ordered pink shirts in advance from the school will receive them by then end of the day on today.
The t-shirt design was the product of an Inspire and Create activity. Georgia H., Lauren A., Daniel G. and Amelia G. representing team Earth had the winning design.
The school will kick of Pink Shirt Day with an assembly at 9:00 a.m. Students will participate other anti-bullying and awareness activities.
Thursday:   Nighthawk Basketball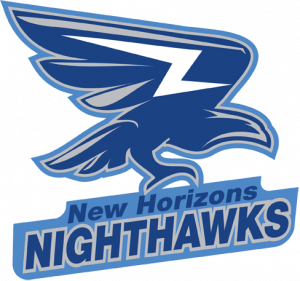 The girls basketball team will be playing against Holy Spirit in the gold medal game here at NHS at 4:00 p.m.
After the girls game, at approximately 5:30 p.m. the boys gold medal game will be played. St Theresa will be playing the winner of the NHS and St. Luke semifinal game.
Go Nighthawks!
Thursday Evening
FANHS is having a Special General Meeting (SGM) on Thursday, February 23, 2017 at 6:30pm at New Horizons School in the Learning Commons.
If you require babysitting for the meeting, please email fanhs.president@gmail.com so arrangements can be made to have a babysitter available for the meeting.
Friday: Winter Carnival 
Students from K to grade 7 will be celebrating winter on Friday afternoon by participating in a Winter Carnival organized by Student Council. Students will be divided into cross-grade groups based on Houses.  Each group will participate in a variety of events. Grade 7 students will be the team leaders and the grade 8 and 9 will be running the activities. Staff will be stationed at each event as well.
The weather will be cooler than it has been, so please ensure that your child has appropriate outdoor wear.