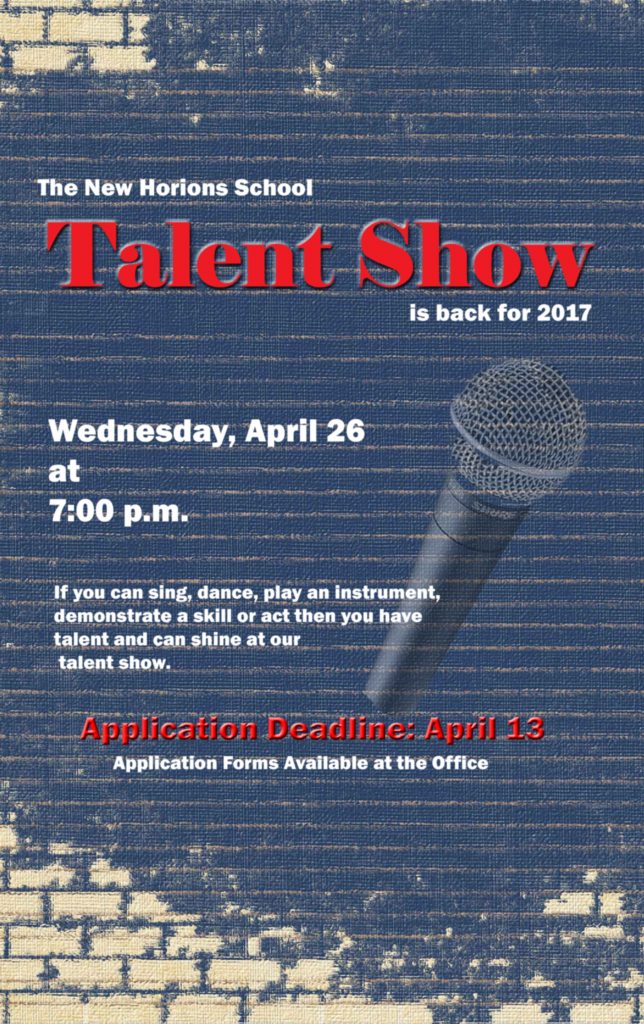 Talent Show
Last week we learned that we have access to our stage which means the annual  NHS Talent Show is on!
It will be held on Wednesday, April 26 @ 7:00 p.m.
Application are open from Monday, April 10 to Thursday, April 13.
Application forms are available here or at the office.
Computer Science Week: December 5-11
Organized by Mrs. Watson, New Horizons School celebrated Computer Science Education Week from December 5-11.
The focus of the week was coding. Coding is giving a computer a set of instructions to make it do what you want it to do. People write the codes, and the code makes many everyday computers like phones, watches, microwaves and cars do what they do. Coding makes it possible to create the different apps, software, and websites that are available to us.
Just like humans use a variety of languages, so do computers. You may have heard of some of the coding languages: Python, C, C++, Perl, Visual Basic, Java, Javascript, Ruby and PHP.
NHS has offered coding to the junior high students as an option for the past several years . Using the Arduino platform, and the Arduino programming language, students create codes such as activating a motor or turning on an LED.
This year, Mrs. Watson's grade 5 class is getting experience with coding by using coding activities from the Hour of Code site.
During our Computer Science Education week, Mrs. Watson week brought in guest parent speakers and community members who have careers in the computer sciences: Jim Qualie, Tom Smith, Gord Nutall, and Reid Nilson. Each presenter spoke about how they came to be in their career, the evolution of computer science over the years as well as the importance of coding and programming.
During the week, students from grades 1-9 were able to participate in coding activities from  Code.org , Scratch, or Studio Code.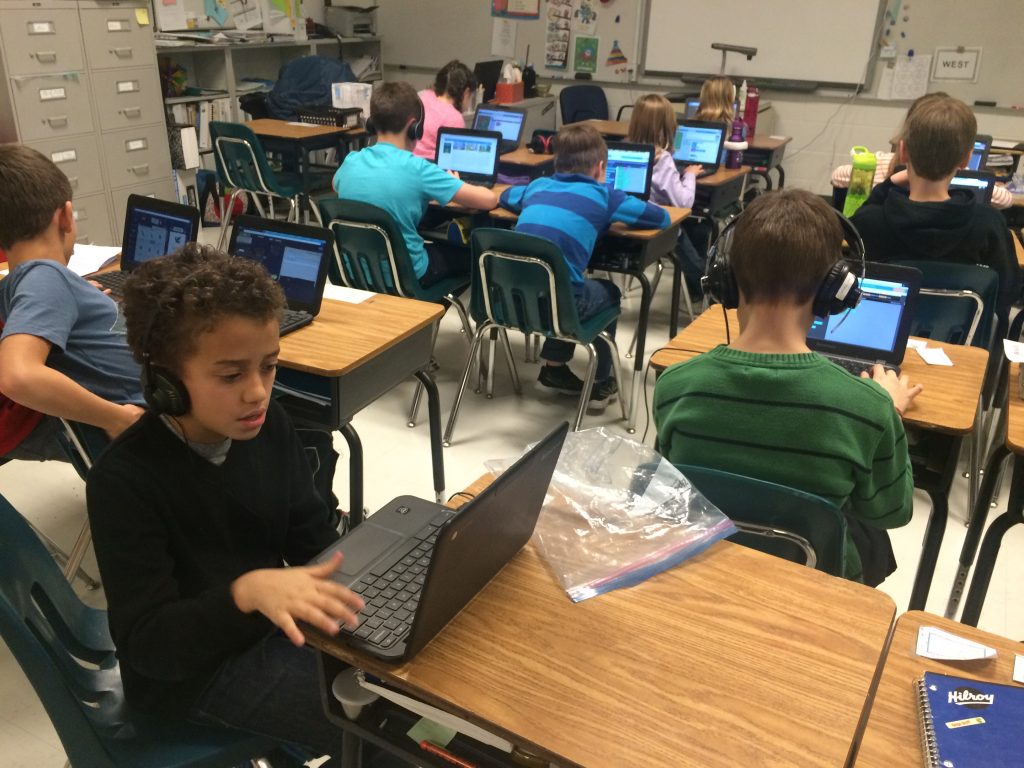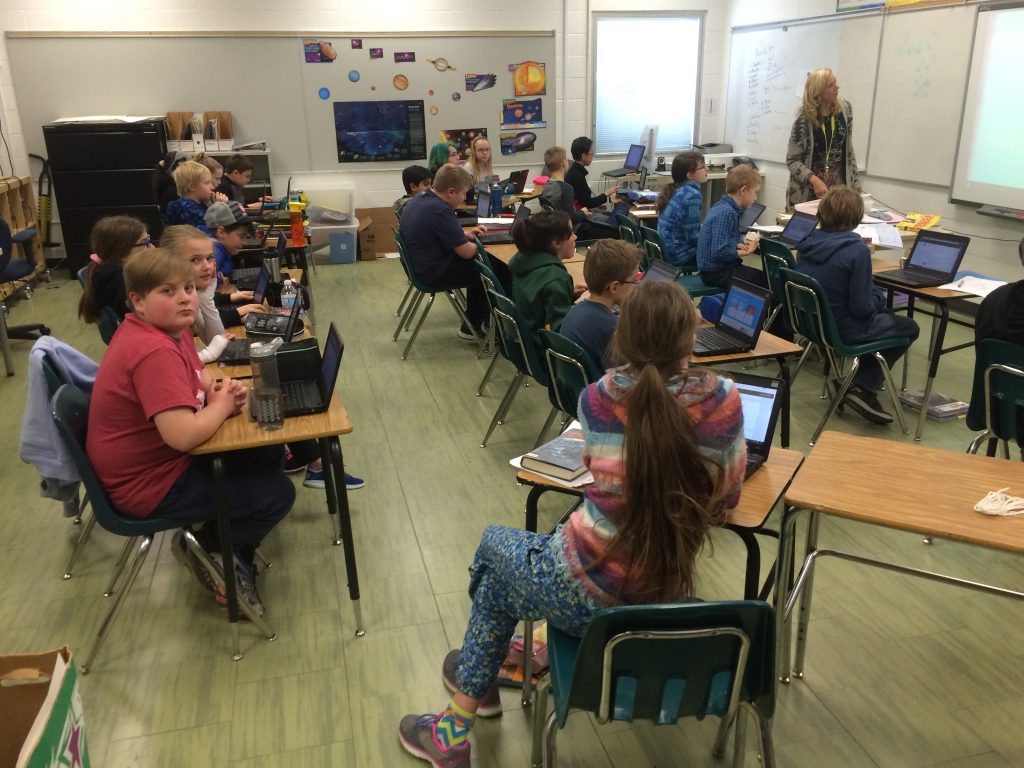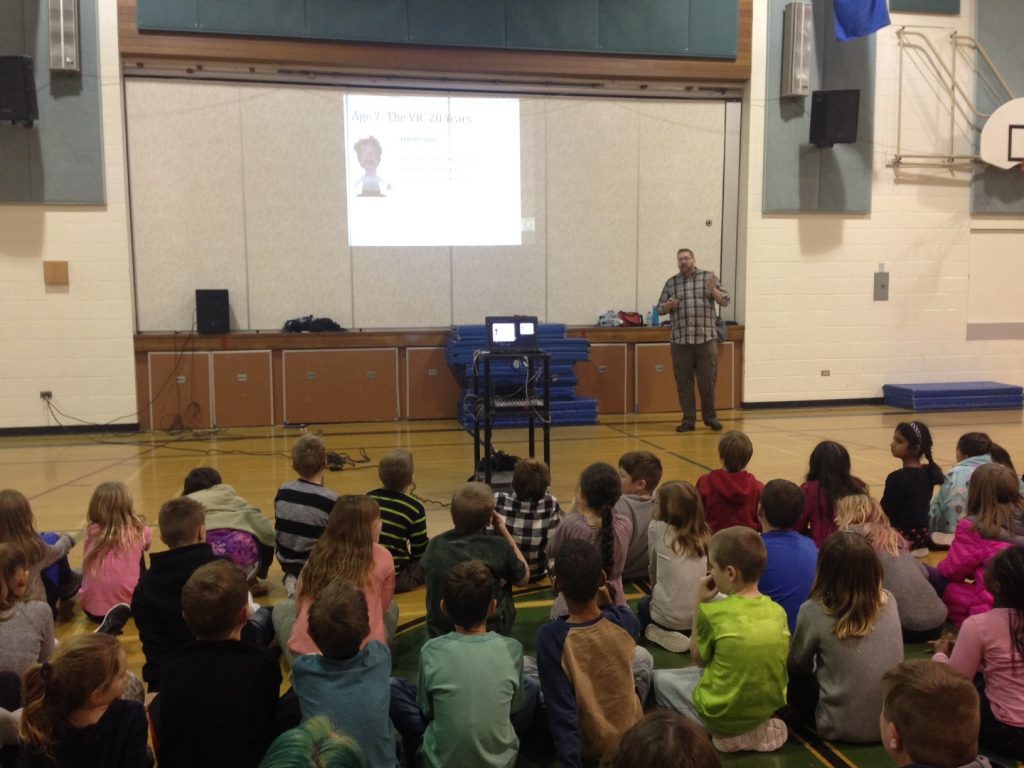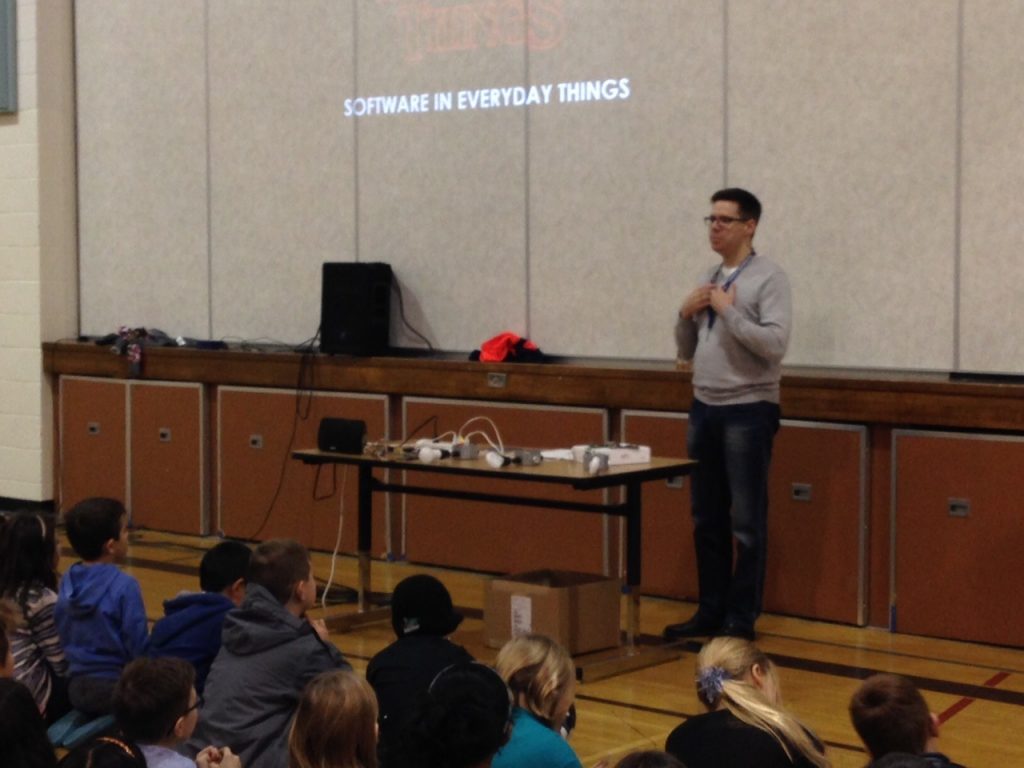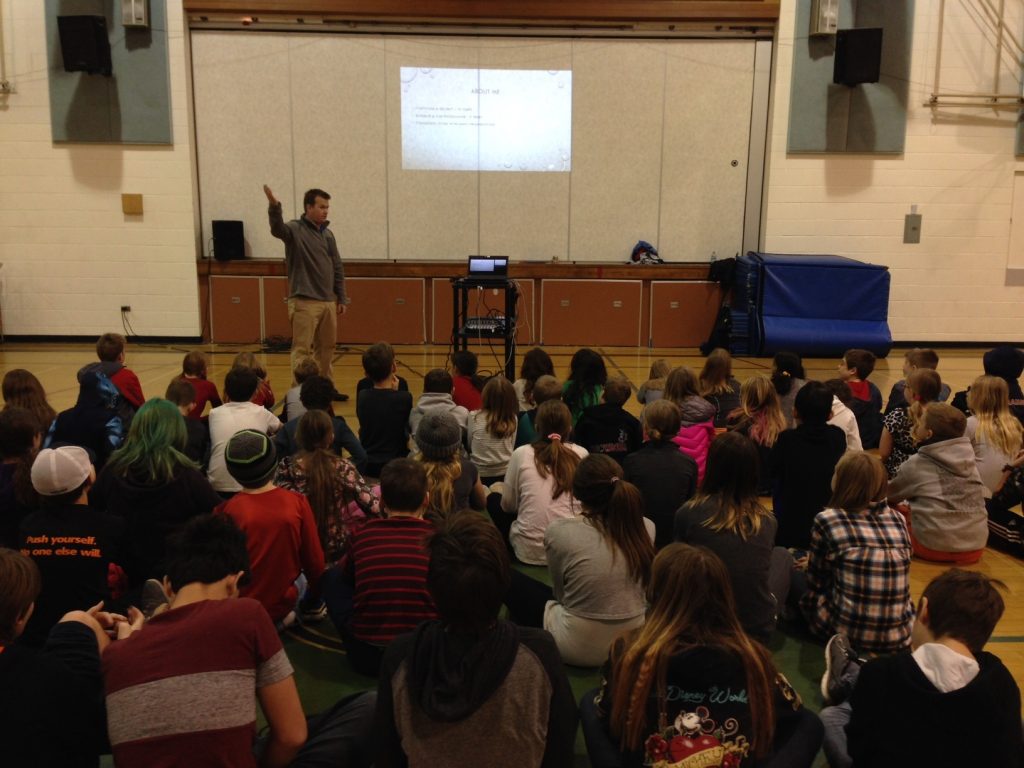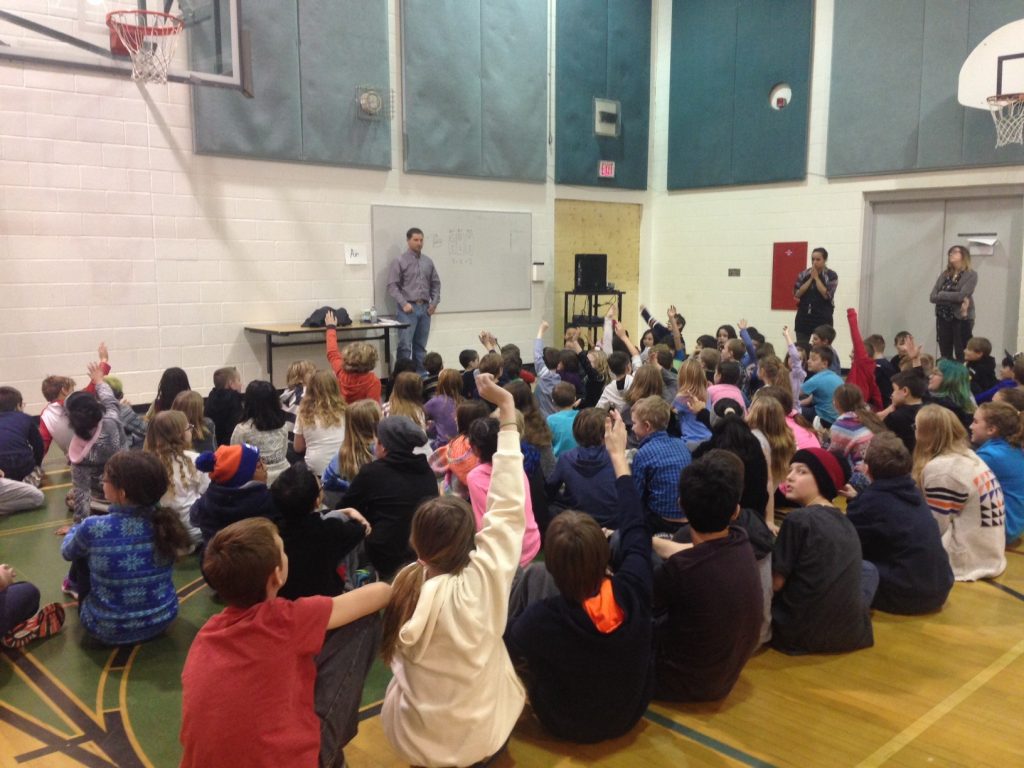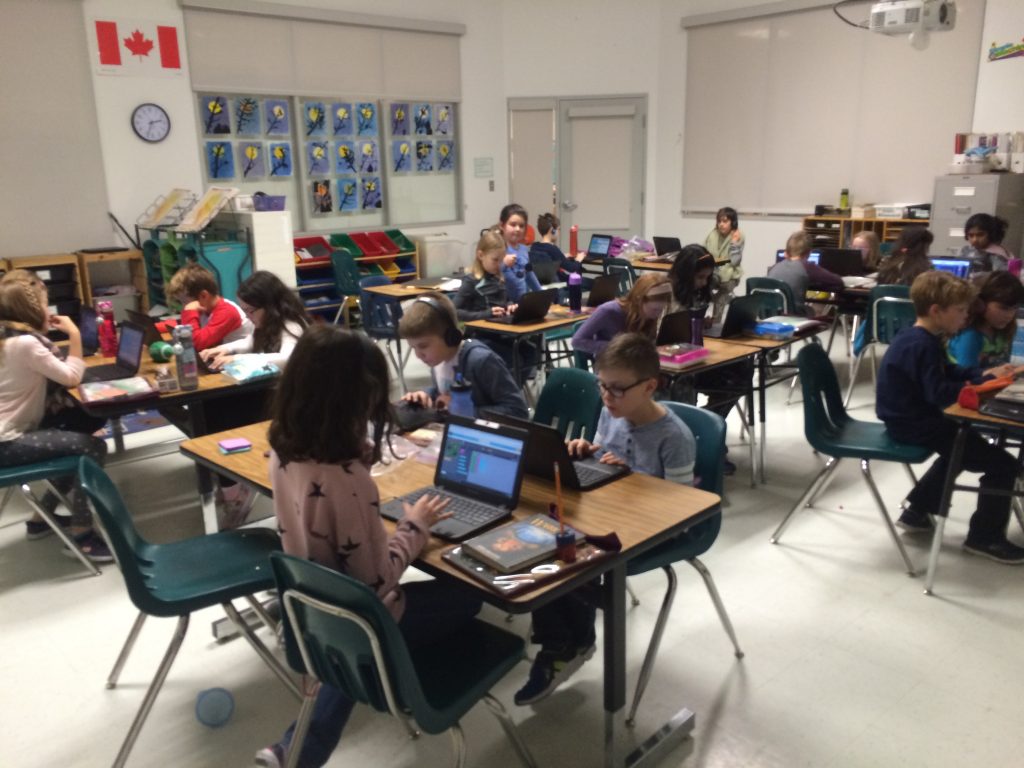 NHS Remembers
On November 10, students, staff and parents of New Horizons School observed Remembrance Day with at ceremony at the school at 11:00 a.m.
As students made their way to the gym, they followed the "Path of the Poppies" past the Memory Wall of Honour. The Memory Wall of Honour had photos of relatives of NHS students who served in the armed forces. Included were memorabilia such as medals and other artifacts. Thank you to the families for providing us with the photos and artifacts. They were important in helping us understand that the sacrifices made were from families in our own school community.
The ceremony began with the singing of O Canada led by Marcella L. and accompanied by Zohan C. We were fortunate to have Captain Christopher Stobbs  as our guest speaker. His address helped us understand the history and scope of sacrifices made by Canadians at home and abroad in the name of peace.
Grade 9 student Arsh V. read the poem In Flanders Fields, while his classmates Kira R. and Justin G. recited poems that they wrote. They were joined by grade 3 student Dexter R. who also read a poem that he wrote for Remembrance Day.
Prior to the Last Post and minute of silence, grade 9 students assisted younger elementary students with the laying of wreaths in a touching candle-lit ceremony.
Thank you to Mrs. Asquini and Mrs. Panas for organizing this year's Remembrance Day ceremony, and thank you to those mentioned above for making the event a meaningful remembrance.
Above all, thank you to the members and families of the Canadian Forces who sacrificed so much for us in the past, and continue to do so today.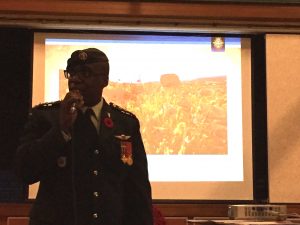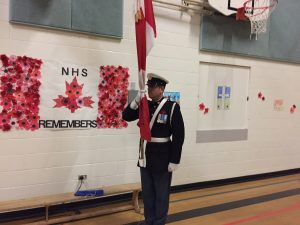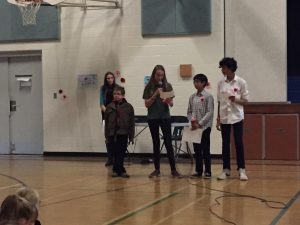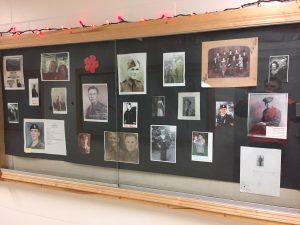 October, 2016
Halloween Day: Monday October 31

Here are some things to consider for Halloween Day at NHS
Students and staff are invited to wear costumes.
Keep the following in mind when choosing a costume for your child:

 choose a costume that your child can manage independently;
choose a costume that will not interfere with your child's learning including Physical Education; keep in mind that students will be going outside for recess.
if you child's costume has a weapon such as a sword, it can be in his/her possession and displayed only during the costume parade – no weapon can be pointed or brandished at others (the weapon will be stored away for the remainder of the day);
if the costume includes a mask, the mask can be worn only during the costume parade.

Halloween is a day of treats!

Please contact your child's teacher before bringing in treats to the school.
We are a nut-aware school. Please do not bring treats that contain nuts or nut oil.
Events for the Day
Costume Parade
Once students have settled in for the morning, we will have a costume parade. Beginning with the Kindergartens, students will parade through the classrooms and end up in the gym for Student Council sponsored activities.
NHS Student Council Halloween Activities (morning)
Each class will have a 20 minute block of time in the gym (with 2 other classes) to complete some of the following activities.
Candy Bracelet Making

Students will be given a piece of licorice to create a candy bracelet using fruit loops and one peach ring.

Jelly Bean Guessing

Students will have an opportunity to try to guess the amount and win a jar full of jelly beans!

Spin the Wheel

Each student will be able to spin the wheel and have a chance of winning a prize; assorted small candies, a chance of picking from the treasure chest, lollipops, a small bag of Doritos, or a pencil.

Pumpkin Bowling

Everyone can try and knock down all the pins.

Pin the Hat on the Witch

Students try their luck on putting a hat on a witch blindfolded!

Medieval Castle Chambers

In addition to all the above great activities the junior high drama option has created a medieval chambers that is available to anyone who is brave enough to enter!
This is for students from Grades 4-9
Please direct any questions to Ms. Hamilton. Thank you.